Our Mission Statement
The mission of the Allen N. Reeves Heroes Foundation is to ensure enlisted Military personnel receive the resources and support they deserve during the Holidays.
Read More
Donate Now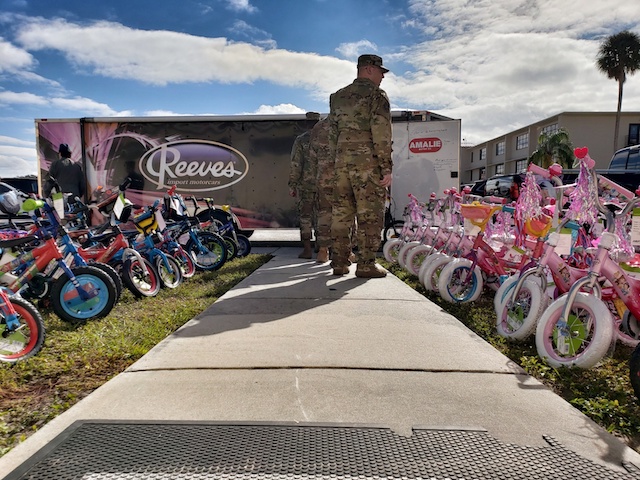 Every year, countless enlisted Military families go without resources or gifts during the Holiday season. We believe these selfless families are the most deserving members of our community, and should celebrate the Holiday season with special food, presents, and other joys that we take for granted.
The Allen N. Reeves Heroes Foundation is committed to ensuring that these valiant heroes and their loved ones experience the Holiday surprises and memories they deserve. NEVER again should our enlisted service members and their families be left wanting at this special time of year. NEVER again should they feel forgotten or unappreciated, and NEVER again should they wonder from where this year's toys, clothes and other Holiday essentials will come.
NEVER again starts NOW-TODAY. We can and must do better by these heroic community members, and we believe you feel similarly. By supporting the Allen N. Reeves Heroes Foundation, please help us in creating a special holiday season for those who have volunteered to keep us all safe. 
We sincerely hope you will join us in our cause to support these incredible men and women, and that you will, today, donate an amount of your choosing.
Donate Now
About Us
The Allen N. Reeves Heroes Foundation was established in 2018 by his family — Mr. Reeves was a United States Air Force veteran and prominent Tampa businessman.
The Foundation is a certified 501(c)3 organization.
Contact Us
We invite you to inquire about support, events and other matters.
Kim Bryant
11333 North Florida Avenue
Tampa, FL 33612
Phone: (813) 739-4913
Fax: (813) 375-3527
KBryant@Drivereeves.com